Around 100 protesters made it onto the Champs-Elysées – policed fired tear gas as the cleared the protesters, many of whom were issued with fines, with the avenue cleared by 5pm.
Many cars and camper vans that had been part of the convoy were towed away.
Teargas inside a cafe on the Champs Elysées in Paris https://t.co/PD0N78F4TY

— Ingri Bergo (@ingribergo) February 12, 2022
"Convoi de la liberté": plusieurs centaines de manifestants bloquent les Champs-Élysées pic.twitter.com/zheK3jJJuU

— BFMTV (@BFMTV) February 12, 2022
The convoys, which are made up of a loose collective of anti-vaxxers, those opposed to the vaccine pass and people protesting against the rising cost of living, set off from towns across France on Thursday, with the aim of converging on the capital.
Armoured cars on the Étoile in Paris today, where there is fear of violent disorder as so-called Freedom Convoys attempt to enter the city. pic.twitter.com/BmhKXgBiiW

— Peter Allen (@peterallenparis) February 12, 2022
French 'freedom convoy' on the Champs Elysées avenue in the centre of Paris. It's quite small: A few dozen vehicles, a handful of other protesters on foot countered by riot police who are blocking off the top of the avenue as it meets the Place de l'Etoile #f24 pic.twitter.com/CTjklFTDRt

— Catherine Norris Trent (@cntrentF24) February 12, 2022
The Paris police préfecture announced that the demonstrations were banned, and over Friday night and Saturday morning thousands of officers have deployed at the city gates to keep the convoys out. 
By Saturday lunchtime, 5 arrests had been made and 283 fines issued.
#Manifestation ? | Intervention en cours des BRAV-M de la @prefpolice pour intercepter et verbaliser 2 camping-cars et 1 camion dans le secteur des Champs-Élysées. pic.twitter.com/QNKDrFHQKW

— Préfecture de Police (@prefpolice) February 12, 2022
Many bars and cafés in the Champs-Elysées area closed up, fearful of violence and vandalism.
Le café joyeux ferme sa terrasse comme la grande majorité des magasins. pic.twitter.com/pZeIywaUIU

— Amaury Coutansais (@amaurycoutansai) February 12, 2022
Paris police tweeted pictures of the vehicles they say they will use to clear the streets, and also some of the weapons that the say had been confiscated from protesters.
#Manifestation ? | Intervention des forces de l'ordre place Denfert-Rochereau pour des manifestants en possession de :
? bidons d'essence, marteaux, couteaux…
? 2 interpellations
➡️ verbalisations pic.twitter.com/L2ftk5sbQY

— Préfecture de Police (@prefpolice) February 12, 2022
Police had also deployed armoured vehicles to keep the Champs-Elysées clear, an echo of the days of the 'yellow vest' protesters, who were banned from the famous thoroughfare after shops were trashed and torched after a demonstration in December 2018.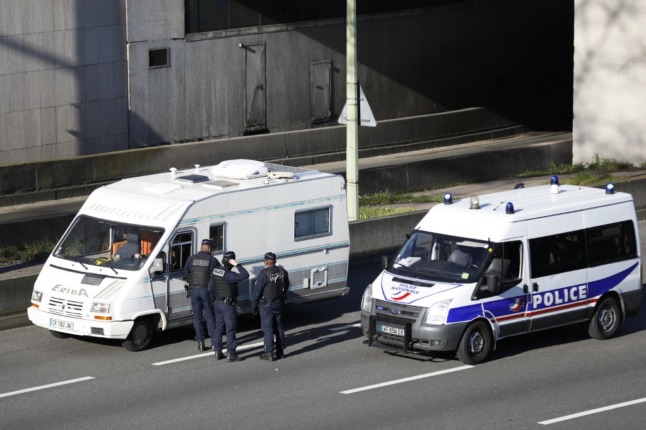 Police officers stop vehicles at Porte de Saint-Cloud, western Paris. Photo by Sameer Al-DOUMY / AFP
Aurelie M., a 42-year-old administrative assistant in a Parisian company, complained that the health pass meant she could no longer take a long-distance TGV train even if she tested negative for Covid in a home test.
"There's so much inconsistency and unfairness," she told AFP, noting that commuters could still cram onto a crowded Paris metro without proof of vaccination.
Sixty-five-year-old factory worker Jean-Paul Lavigne said he travelled across the country from the southwestern town of Albi to protest fuel, food and electricity price hikes as well as the pressure on people to get vaccinated.
On Friday, president Emmanuel Macron called for calm, saying he understand the "fatigue" with the health restrictions.
"This fatigue also leads to anger. I understand it and I respect it. But I call for the utmost calm," he told the Ouest-France newspaper.