Unions are calling for a co-ordinated walk-out on Friday, February 18th, of workers on the capital's RATP public transport network, in an ongoing dispute over pay.
The disruption will be severe, with the city's revised strike timetable showing that more than half of Metro lines will not be running at all, with others running only during rush hour. Those services that do run are expected to be extremely busy.
Trams, buses and some RER suburban trains are also affected.
Transport minister Jean-Baptiste Djebbari has called on anyone who can to work from home on Friday, while RATP is also advising people not to travel unless absolutely necessary.
Le trafic RATP sera très perturbé vendredi. Nous invitons les entreprises à recourir le plus possible au télétravail.

— Jean-Baptiste Djebbari (@Djebbari_JB) February 16, 2022
The Transilien train network and remaining RER services – which are operated by national rail operator SNCF – are not affected.
The dispute is over annual pay increases, with unions saying that RATP's proposed 0.4 percent is not enough to cover increases in the cost of living.
RATP has published its revised strike timetable with the following services; 
Metro
Lines 1 and 14, which are automated, will run as normal but are likely to be extremely busy. The Orly-Val shuttle service to Orly airport will also run as normal.
On Line 1 the following stations will be closed – Reuilly-Diderot, Bastille, Hôtel de Ville and Concorde
Lines 3, 4, 6, 7, 9, 11, 12 and 13 will run only during rush hours – 6.30am to 9.30am and 4.30pm to 7.30pm.
Line 3 – will run only between Pont Levallois and Havre-Caumartin, with 1 in 4 of the normal services running. The Villiers station is closed.
Line 4 – half normal service with stations closed; Marcadet-Poissonniers, Barbès-Rochechouart, Gare de l'Est, Strasbourg Saint-Denis, Saint-Placide, Raspail, Alésia
Line 6  – will be running only between Nation and Place d'Italie, 1 in 3 of normal service
Line 9 – 1 in 3 of normal service. Stations closed; Exelmans, Jasmin, Alma-Marceau, Charonne, Maraichers, République, Strasbourg-Saint-Denis, Grands Boulevards, Trocadéro, Michel-Ange-Molitar
Line 11 – One train in four is operating at peak hours. Hôtel de Ville, République, et Arts et Métiers stations are closed.
Line 12 – Trains will run only between Mairie d'Issy and Montparnasse-Bienvenüe. Pasteur station is closed
Line 13 – 1 in 3 of normal service. Stations closed; Pernety, Duroc, Varenne, Invalides, Liège, Place du Clichy, Brochant, Garibaldi
Lines 2, 3bis, 5, 7bis, 8, and 10 – no services on these lines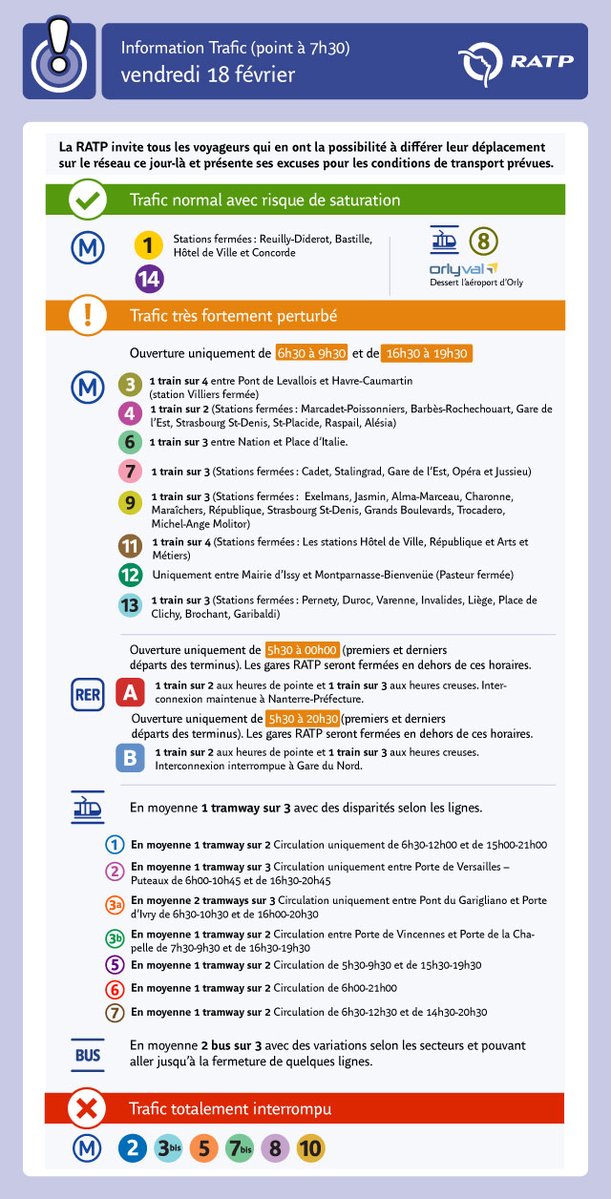 RER
RER lines A and B – the line that runs into the city from Charles de Gaulle and Orly airports – will be affected, with services running between 5.30am and 12midnight. 
They will be running half the normal services during rush hours and 1 in 3 normal services the rest of the day.
RER B will involve changing at Gare du Nord.
Trams
Trams will be running 1 in 3 an average of their normal services with limited service times
Line 1 – half normal services. Service only between 6.30am and 12noon and 3pm and 9pm
Line 2 – 1 service in 3. Service only between 6am and 10.45am and 4.30pm and 8.45pm
Line 3a – 2 service in 3. Service only between Pont du Garigliano and Porte d'Ivry and only between 6.30am and 10.30am and 4pm and 8.30pm
Line 3b – half normal service. Service only between Porte de Vincennes and Porte de la Chapelle and only between 7.30am and 9.30am and 4.30pm and 7.30pm
Line 5 – half normal service. Service only between 5.30am and 9.30am and 3.30pm and 7.30pm
Line 6 – half normal service. Service between 6am and 9pm
Line 7 – half normal service. Service between 6.30am and 12.30pm and 2.30pm and 8.30pm
Buses
On average, 2 in 3 of the normal bus services will be running, but routes and lines may vary